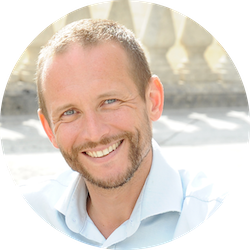 KAIROS (καιρός) is an Ancient Greek word meaning the right, critical or opportune moment. The ancient Greeks had two words for time: chronos (χρόνος) and kairos. While the former refers to chronological or sequential time, the latter signifies a proper or opportune time for action. What is happening when referring to kairos depends on who is using the word. While chronos is quantitative, kairos has a qualitative, permanent nature. Kairos also means weather in Modern Greek. The plural, καιροί (kairoi (Ancient and Modern Greek)) means the times.
If you believe it is the right, critical or opportune moment for you to contact us, please drop us an e-mail.
julien.schmidt@kairos-proximity.com
KAIROS Proximity has been recognized as a training centre by the french authorities under the regional Provence-Alpes-Côte-d'Azur administration n° 93040088804 and has been accredited DataDock.
DATA PROTECTION
Madame, Monsieur,
Nous vous remercions pour la confiance que vous nous accordez et tout particulièrement dans l'échange et bien sûr la mise en oeuvre des accompagnements.
KAIROS Proximity est très soucieux de respecter la vie privée de ses clients et nous avons fait le choix de traiter le strict minimu de données nécessaires à l'exercice de nos missions.
A ce titre, vous bénéficiez à tout moment d'un droit d'accès, de rectification, de portabilité, d'effacement de vos données personnelles ou une limitation du traitement.
Vous pouvez vous opposer au traitement des données vous concernant et disposez du droit de retirer votre consentement à tout moment en vous adressant au délégué à la protection des données julien.schmidt@kairos-proximity.
Vous avez bien évidemment également la possibilité d'introduire, le cas échéant, une réclamation auprès d'une autorité de contrôle.